Surface Mount Device (SMD)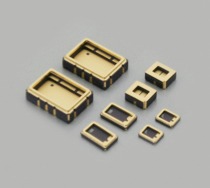 Contact NTK
Material
HTCC materials are available. Please refer to the material properties of the table with respect to material properties.
Products can be ordered individually or in lots as needed.
Custom designs and standard products are supported.
Features
Features
• Multilayer Ceramic Package
• Two or four side, Top Brazed option
• Excellent electrical performance and thermal management
• Footprint Compatible with J Leaded and PLCC
• Surface Mount or Socket Applications
• Gold Plated Leads
• Solder, Glass or Epoxy Seal ???