Millimeter Wave Package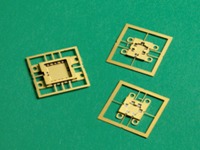 Contact NTK
Application
NTK millimeter wave packages are an ideal solution for applications ranging from consumer electronics to high end devices.
Material
These packages feature Ceramic-to-metal feed-thru leads for optimal function and reliability.
Features
Millimeter wave packages are available in a variety of design options that are suited for specific cost performance requirements.
Applications Notes