LED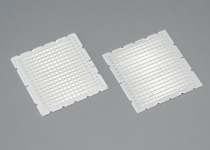 Contact NTK
Application
Thermal resistance is minimized for High, Mid, and Low power LED substrates withNTK's package design flexibility.
Material
Thin-film patterning is available (Isolation gap: 40um MIN)
Ni-Au plated surface finish provides various interconnect
options such as wirebond, flipchip, and soldering methods.
Other plating options are available.
Features
The Cu layer on the substrate surface quickly spreads the heat by dissipating it throughout the entire area of the substrate.
HTCC is utilized as base material to bring a cost advantage
over Aluminum Nitride.
Advanced sheet lamination technology
enables design flexibilities for complex package structures.


Applications Notes