Bottom Brazed Package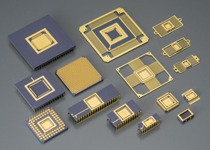 Contact NTK
Application
CPGAs are designed in ceramic multilayer package with brazed pins on cavity up and cavity down configurations. Package designs are supported in a variety of pin counts.
Material
Both HTCC and LTCC materials are available. Please refer to the material properties of the table with respect to material properties.

Products can be ordered individually or in lots as needed.
We also offer optimal designs and standard products to customer needs.


Features
CPGAs features include:
• Excellent electrical performance in a wide range of package sizes
• Small through hole mounting package with rugged construction
• High I/O signal carrying capacity
• Hermetically encapsulated packages offering enhanced thermal dissipation

Applications Notes
We offer ceramic packages using multilayer ceramics with characteristics including high rigidity, lower profile and greater compactness, low warpage, and excellent dustproof performance.
Alumina co-fired Ceramic Flip Chip Design Guide